© Swiss Better Gold
Share
An extended elevator for safer work conditions in Peru


Ayacucho, Peru: extension of an elevator system to transport personnel, ore, waste rock and equipment within the Sotrami mine.
Sotrami mine employs 600 people and has been part of the Swiss Better Gold Initiative since 2013.
Sotrami is an underground mine, currently including 21 levels. In 2019, Sotrami initiated the construction of an elevator system, named the Pique Salvador with the capacities of carrying 18 people. In a first phase, the Pique reached working level 12. It has been operating since 2021 to safely transport personnel and equipment from and to the underground working galleries, as well as to lift ore and waste rock to the surface.
To improve the working and safety conditions on all the mine levels, the Pique Salvador needed to be extended. This extension was supported by the Swiss Better Gold Fund.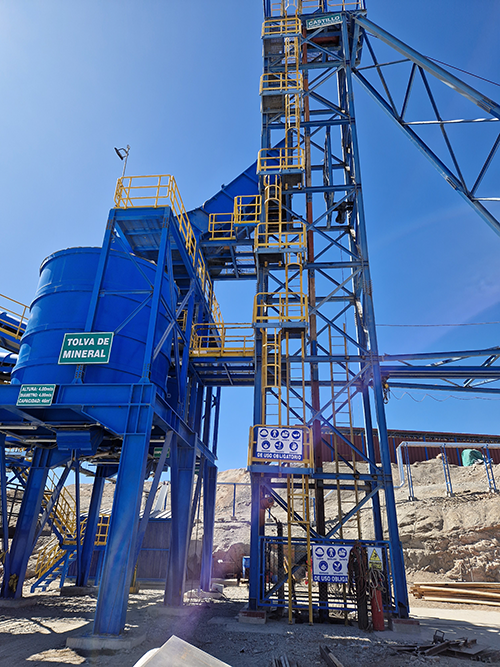 © Swiss Better Gold
Objectives:
Improve working condition in the mine
Reinforce compliance with the Swiss Better Gold criteria "Safe Work"
Project:
Extend the elevator from level 12 to 14
Reach the 14th level in approximately 4 minutes
Project implementation:
The total cost of this extension project amounted to USD 1'872'000 with a contribution from the Swiss Better Gold fund of USD 936'798.
Impacts:
Social: improves safety conditions of the 400 miners working underground.
Social: contributes to facilitate an immediate response to emergencies.
Operational: contributes to improve several operational processes in the mine, such as the internal communication system and the transportation of equipment.
Operational: Contributes to reducing personnel turnover thanks to the better working conditions.
Operational: Improves the mine's operational processes.
Date of project completion:
The extension of the Pique Salvador till level 14 was achieved in May 2023.